A WELCOMING CENTRE FOR ALL
Come on in – join an activity, enjoy the facilities or relax with a cup of coffee in our
brand new Community Café.
We look forward to welcoming you to your local Community Centre.
WELCOME TO BROOKFIELD YCC
South Dublin Community Facilities CLG, was established in September 2019, to manage Brookfield Youth and Community Centre. Brookfield Youth and Community Centre is a spacious, modern, multi-purpose community centre, including a large hall, community café, meeting rooms, training rooms and dedicated youth space and community space.
The Centre is a community centre for all, with a focus on working with young people. Come on in and visit us at Brookfield Road, Tallaght.
We are from the community –
Working for the community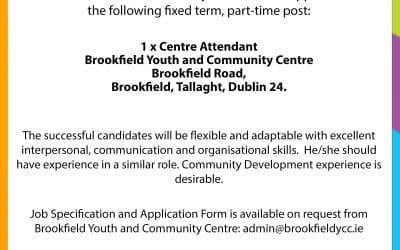 Brookfield Youth and Community Centre invites applications for the following fixed term, part-time post. 1 x Centre Attendant The latest date for receipt of applications is 4pm on Tuesday January 10th 2023. Email admin@brookfieldycc.ie for Job specification and...
read more